English Plus - Student Access (printed)
English Plus - Student Access (printed)
English Plus - Student Access (printed)
Product details
Author:

John Langan

SKU/ISBN:

978-1-59194-466-9

Year:

2016

Page count:

628

Reading level:

8-12

Weight:

0.07 lb

Availability:

In stock
Overview
A 10-month subscription to English Plus. A code, delivered on a printed access card, grants students access to a comprehensive suite of digital resources that includes: assignments, mastery tests, and eBooks of English Essentials; English Essentials, Short Version, 2/e; Clear Thinking and Writing, 2/e. An ebook of Voices and Values, 2/e is also included. Together, these texts provide the clear guidance students need to help master key grammar, punctuation, and usage skills, as well as to understand the basics of clear thinking and explain the writing process and common writing patterns.
More information
What's included in this English Plus 10-month subscription:
A subscription to English Plus provides access to eBooks of our acclaimed grammar titles—English Essentials and English Essentials, Short Version, 2/e—and our newest English text: Clear Thinking and Writing, 2/e. These eBooks are accessed through our user-friendly Learning Center via a tablet, computer, or smartphone and students can annotate, bookmark, highlight, and mark up eBook pages.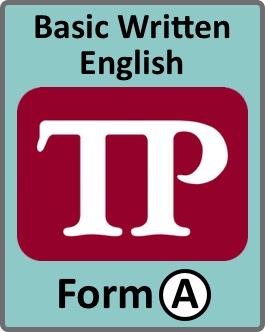 English Skills Assessments:
Two tests of students' basic written English language skills are available. Easy to administer and directly aligned with the skills in our English Essentials textbooks, these tests can guide individual and class instruction. Our transparent, teacher-friendly score reports reveal exactly which items challenged students and which ones they've mastered.
NEW!
 Added Practice in Grammar:
English Plus includes four digital exercises and two tests for key skill chapters in the English Essentials textbooks. These digital exclusives serve to deepen and reinforce each skill presented in the text or eBooks. When used together with the book-based items, students will have ample practice with each skill.
NEW!
 Additional Practice in Clear Thinking:
Twenty-five progressive online tests on the basics of clear and logical thinking are included with this subscription to English Plus. These tests—250 point-support items in all—gradually increase in difficulty, enabling students to systematically strengthen their logical thinking skills.
NEW! 
Bonus Readings:
These five reading selections are additional practice items that do not appear in the textbook. They each come with comprehension and discussion questions and writing assignments.
Key Features of the Learning Center and English Plus:
To use English Plus with students, instructors begin by getting an approved instructor account in the Townsend Press online Learning Center. Then, the instructor sets up the class by adding and managing assignments and students.
Assignment Control
When adding assignments, instructors can choose the assessment, exercise, and/or test that they wish to add to the class. Instructors can manage each assignment by adding an optional post and/or due date, and assessments can be given a time limit, if needed.
*Note: Students must have a paid subscription to access all Plus materials.
Scores Reports 
Reports are useful tools for monitoring student progress and tailoring instruction. The Learning Center offers flexibility with reports—choose to include as much or as little information as needed.  Instructors can choose to include results for each exercise or test (including retake scores), chapter averages and there is an option to view a breakdown of each question and how it was answered by the students. Individual student progress can be monitored by seeing the amount of time spent working and scores specific to that student. Class report results can be exported for use in other programs.
Want to know more?
More details on the Learning Center are available here or by calling our friendly technical support staff at (888) 752-6410.
English Plus provides access to eBooks for English Essentials; English Essentials, Short Version, 2/e; and Clear Thinking and Writing, 2/e. Here is the table of contents for each book. 
For English Essentials
Preface to the Instructor
Introduction
   •About the Book
   •Becoming a Better Writer 
   •Writing Assignments
PART ONE: Fourteen Basic Skills
         1. Subjects and Verbs
         2. Irregular Verbs
         3. Subject-Verb Agreement
         4. Sentence Types
         5. Fragments I
         6. Fragments II
         7. Run-Ons and Comma Splices I
         8. Run-Ons and Comma Splices II
         9. The Comma
       10. The Apostrophe
       11. Quotation Marks
       12. Homonyms
       13. Capital Letters
       14. Parallelism
PART TWO: Extending the Skills
15. Preparing a Paper
16. Punctuation Marks
17. Pronoun Forms
18. Pronoun Problems
19. Adjectives and Adverbs
20. Misplaced and Dangling Modifiers
21. Word Choice
22. Numbers and Abbreviations
23. More about Subjects and Verbs
24. More about Subject-Verb Agreement
25. More about Verbs
26. Even More about Verbs
27. More about Run-Ons and Comma Splices
28. More about Commas
29. More about Apostrophes
30. More about Quotation Marks
31. More about Homonyms
32. More about Capital Letters
PART THREE: Proofreading
33. Proofreading Techniques 
34. Ten Proofreading Tests
PART Four: Related Matters
35. Spelling Improvement
36. Parts of Speech
37. Dictionary Use
 
For English Essentials, Short Version, 2/e
To the Student

PART ONE Fourteen Basic Skills
1 Subjects and Verbs
2 Irregular Verbs
3 Subject-Verb Agreement
4 Sentence Types
5 Fragments I
6 Fragments II
7 Run-Ons and Comma Splices I
8 Run-Ons and Comma Splices II
9 Commas 
10 Apostrophes
11 Quotation Marks 
12 Homonyms 
13 Capital Letters
14 Parallelism
PART TWO Extending the Skills  
15 Preparing a Paper
16 Punctuation Marks
17 Pronoun Forms 
18 Pronoun Problems
19 Adjectives and Adverbs
20 Misplaced and Dangling Modifiers 
21 Word Choice 
22 Numbers and Abbreviations 
23 More about Subjects and Verbs 
24 More about Subject-Verb Agreement 
25 More about Verbs: Tenses 
26 Even More about Verbs
27 More about Run-Ons and Comma Splices 
28 More about Commas 
29 More about Apostrophes 
30 More about Quotation Marks 
31 More about Homonyms 
32 More about Capital Letters 
PART THREE Writing and Proofreading
33 The Basics of Writing 
34 Writing Assignments 
35 Proofreading Techniques 
36 Ten Proofreading Tests 
PART FOUR For Reference
37 Parts of Speech 
38 Dictionary Use 
39 Spelling Tips 
 
For Clear Thinking and Writing, 2/e
To the Instructor
To the Student

PART ONE The Basics of Clear Thinking and Writing
1 An Introduction to Point and Support
2 Point and Support in Paragraphs and Essays
3 Understanding the Writing Process
 
PART TWO Writing Patterns and Practice 
4 Relationships in Writing
5 More Relationships in Writing
6 Argument in Writing
7 Writing a Research Paper with Sources
8 A Variety of Writing Assignments
 
PART THREE A Handbook of Grammar, Punctuation, and Usage
9 Subjects and Verbs
10 Irregular Verbs
11 Subject-Verb Agreement
12 Sentence Types
13 Fragments I
14 Fragments II
15 Run-Ons and Comma Splices I
16 Run-Ons and Comma Splices II
17 Commas
18 Apostrophes
19 Quotation Marks
20 Homonyms
21 Capital Letters
22 Parallelism
23 Preparing a Paper
24 Punctuation Marks
25 Pronoun Forms
26 Pronoun Problems
27 Adjectives and Adverbs
28 Misplaced and Dangling Modifiers
29 Word Choice
30 Numbers and Abbreviations
31 More about Subjects and Verbs
32 More about Subject-Verb Agreement
33 More about Verbs: Tenses
34 Even More about Verbs
35 More about Run-Ons and Comma Splices
36 More about Commas
37 More about Apostrophes
38 More about Quotation Marks
39 More about Homonyms
40 More about Capital Letters